ZOMCHI
Double Edge Razor Blades, 50 Counts blades for Shaving, Platinum Stainless Steel Shaving Blades for Men and Women, Fits Most Standard Double Razors by ZOMCHI
SKU: carro-3010171
Fulfilled by our friends at ZOMCHI
【SHARP AND PRECISE SHAVING BLADES】These safety razor blades are manufactured with precision and then coated in Platinum to get the smoothest shave. Zomchi double edge razor blades fit most standard double razors, so come get them to enhance your elegant and handsome temperament.(Blades are extremely sharp and must be handled with care)
【SUPIRIOR PLATNUM FOR DURABLITY】With Exquisite workmanship, Zomchi double edge razor blades will not easily rust as they are made of stainless steel with rust-resistant coatings. Besides, its smooth surface makes it easy to wash hair away after shaving.
【WELL PACKAGED SAFETY RAZOR BLADES】Each of the double edge razor blades is individually wrapped in wax-paper for safer handling. Besides, 5 pieces in a small inner packing enable you to keep and carry easily during traveling or business trip.
【SUITABLE FOR ANY SKIN AND BEARD TYPE】Whether you're looking for men's shaving blade refill or platinum safety razor blades, these premium blades will get your work done. A shaving cream is a good helper when using Zomchi razor blades, which can hydrate the skin and protect it from any irritation, leaving a soothing sensation.
【5 CARTONS OF 10 DOUBLE SAFETY RAZOR BLADES】As one shaving blade can be used four to six shaves, so 50 count double shaving edge blades can be used up to 300 shaves. We are so confident that you are going to love these safety razor blades and if you are not completely satisfied with it, simply contact us and we'll take care of it.
100% SATISFACTION GUARANTEE:  From shipping to returns, ZOMCHI assures customers to replace any defective product immediately. Check Zomchi Warranty Policy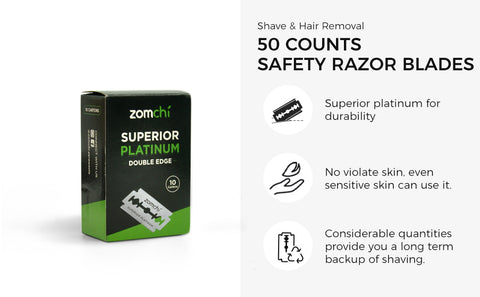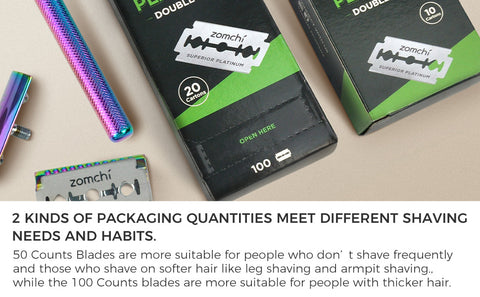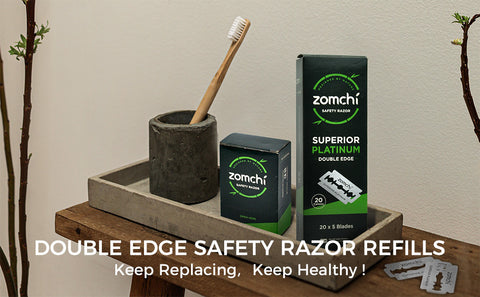 We want you to be proud of the look, style and fit of your Poe & Company Flat Cap or Apparel Item. Below are our sizing charts for you to review before making your purchase. You can also find sizing charts on the independent product pages as you browse the images or descriptions. 
We also have a robust return or exchange policy in the event it isn't the exact fit you were looking for. You can visit the Return or Exchange Policy here: Returns & Exchanges
QUICK LINK:
Flat Caps Sizing
Poe and Company Flat Caps have their origins in Great Britain. We are proud to offer them by the centimeter in order to give our customers the closest to a custom fit available in a standard size. Many companies will only offer standard Small - XXX-Large. In doing so, they are able to limit their stock and manufacturing costs passing the off-sizes off to the customer. We want you to love the fit! 
For Poe & Company Limited Brand Flat Caps, Use the Chart Below.
We also offer "Harris Tweed Flat Caps from our Friends at Glencroft." You can note a Glencroft Harris Tweed in the Flat Cap descriptions. They generally run 1cm smaller so if you measure as a 59 cm by measuring tape, please order a 58 cm Harris Tweed. 
Ladies and Childrens Flat Caps are one-size fits all. Both have an elastic back to accommodate ladies hair styles and growing children.
 Find your size and find your style. Questions? Email us at: Customer Service
Poe & Company Apparel Sizing
We offer a finely selected range of adult and childrens apparel items. Please review sizing below. You can also find sizing on the independent product pages as you browse the images or descriptions. 
| | XS | S | M | L | XL | XXL |
| --- | --- | --- | --- | --- | --- | --- |
| Chest | 36-38 | 38-40 | 40-42 | 42-44 | 44-46 | 46-48 |
| Sleeve Length (under arm) | 54 | 55 | 56 | 57 | 57 | 58 |
| Back Length | 68 | 68 | 68 | 69 | 69 | 69 |
 0-3 Months     3-7 Months     7-12 Months 
| | XS | S | M | L | XL | XXL |
| --- | --- | --- | --- | --- | --- | --- |
| Chest (Inches) | 35-37 | 37-40 | 40-42 | 42-44 | 44-46 | 46-48 |
| Chest (CM) | 87-94 | 94-101 | 101-106 | 106-111 | 111-116 | 116-121 |
| Length (Inches) | 25.5 | 26 | 27 | 28 | 29 | 30 |
| Length (CM) | 65 | 66 | 68.5 | 71 | 73.5 | 76 |
| Sleeve (Inches) | 19 | 19 | 20 | 21 | 22 | 23 |
| Sleeve (CM) | 48 | 48 | 51 | 53 | 56 | 58.5 |
| Arm hole (Inches) | 8 | 8.5 | 9 | 9.5 | 10 | 10 |
| Arm hole (CM) | 20 | 22 | 23 | 24 | 25 | 26 |